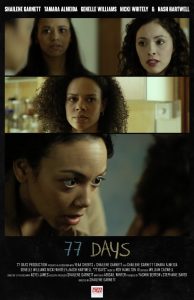 "77 Days" is premiering in the Reelworld Film Festival this weekend!
Some amazing people worked on this film including Shailene Garnett (Shadowhunters, Between, Teenagers), Yasmin Bertew (Couple-ish, Dark Brown Eyes), Genelle Williams (Bitten, Remedy, Radio Free Roscoe),
Tamara Almeida (Some Kind of Life, RoboCop), Nicki Whitely (Kid's Town, Betty and Coretta) and acting debut for the young Nash Hartwell.
About 77 Days
After another stint in rehab, a young, absentee mother is finally determined to put her life together. She is faced with the challenges of mending the fragile pieces of her damaged relationships with her sisters in order to get her son back.
About Reelworld
The Reelworld Film Festival is dedicated to harnessing the power of film as a force for social good. We believe great stories are the beginning of great solutions. Our mission is to unlock the power of film by connecting inspired people to inspired partners. Reelworld is for you – a generation of socially engaged citizens who care about how your lives impact your community and the planet. (from reelworld.ca)
There are three opportunities to see the film – see links below!
Thursday: http://www.harbourfrontcentre.com/festivals/reelworld/events/index.cfm?id=8706&festival_id=248
Saturday: http://www.harbourfrontcentre.com/festivals/reelworld/events/index.cfm?id=8728&festival_id=248
Sunday: http://www.harbourfrontcentre.com/festivals/reelworld/events/index.cfm?id=8730&festival_id=248