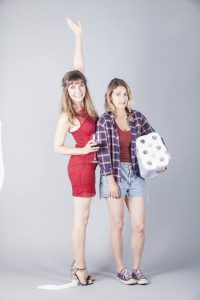 I am so thrilled to announce that I will be joining the team of the new comedy web series "My Roommate's an Escort" – creators Katie Uhlmann and Trish Rainone (pictured).
I will be playing the passive-aggressive, tattoo parlour manager, Megan as well as jumping on board as Production Manager. With lots of laughs to come – be sure to follow the adventure of this project!
About My Roommate's an Escort
As nice-girl Heather gets to know her new roommate Kesha, she starts to suspect that Kesha is an escort. Kesha drags Heather into less than ideal and sometimes dangerous situations, including losing the love of her life, and a run-in with the mob.